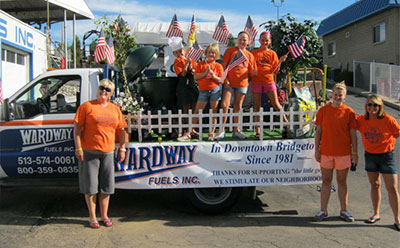 About Us
Wardway Fuels supplies home heating oil, propane, diesel fuel, gasoline, racing fuels & C02 refills. Wardway's Grill, Pool, Hearth Shop features great grills, barbecue equipment & accessories, outdoor & gas fireplaces, and swimming pool supplies. We also provide service for pools, grills, and gas fireplaces.
Founded by Tom Ward in 1981, Wardway Fuels is still owned and operated by the Ward Family. Siblings Kevin, Gary, and Diana, and our team are dedicated to and focused on meeting and surpassing our customer's individual needs. We realize it's a privilege to serve our customers. So whether we deliver your fuel, or if you're visiting our store, we continually strive to make sure that you enjoy an excellent customer service experience. .
Wardway Fuels
View Commercial
Count on Wardway Fuels for dependable oil and propane service. 
Wardway Grill & Pool Shop
View another commercial 
This one highlights our Grill and Pool Shop.
Wardway Hearth Products

And another commercial
Learn about out gas fireplaces, Thermo-Rite doors, and services.