Warning
: extract() expects parameter 1 to be array, null given in
/home/wardway/www/www/classes/entry.php
on line
187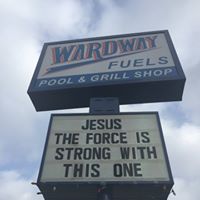 Merry Christmas and Happy Holidays from all of us here at Wardway Fuels. It's been a great year, and we say thank you to all for your patronage. It's truly our pleasure and privilege to serve you. 
We are here to help. Our Grill, Pool, and Hearth Shop can make your Christmas shopping easy great gift ideas like grilling acessories, Yeti products, end of year grill deals with free assembly and delivery. Shop the "little guy" and see how that personal touch makes your experience a positve one. 
If there is anything we need to do serve you better, I want to know about. Please reach out to me directly - 513-574-0061 office or 513-617-1128 cell with any thought or feedback you have. Thanks again, and we wish a you very joyful Holiday Season. 
Kevin Ward
President