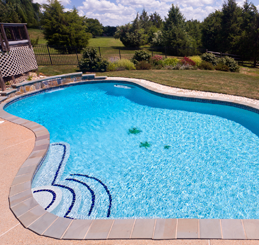 Owning a pool is no sweat, because with Wardway Pool Service you'll always enjoy clean, clear, sparkling blue water. We've been in the pool care business for over 25 years. Count on Wardway Pool Service for:
Openings - please see below
Winterization
Weekly or temporary maintenance
Acid cleaning
Filter/pump repairs
Winter Safety Covers
Pool liners
Pool opening includes removing the cover, treating it with a storage preservative, folding the cover, removing winter plugs and fittings, installing handrails, ladders, & inlet fittings, backflushing water liners, pump & filter startup, checking the equipment, and adding necessary shock, algaecide, and enzyme treatments.
Prior to service, customer is responsible for draining water and clearing debris off cover, having the pool completely filled, and storage of cover and other pool equipment. POOL CLEANING IS NOT PART OF POOL OPENING SERVICE.
Our crews are professionally trained. You can be assured that the work will be done right the first time.
Call us today at 513-574-0061 or use the form to the right to book your swimming pool service appointment.