Wardway Fuels: your source for oil & propane.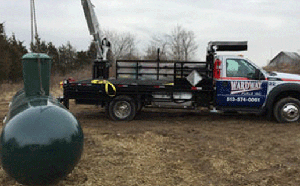 Propane
Wardway supplies propane gas for all your needs.
Home, commercial, industrial heating
Aboveground and underground tank installation available
Crop drying
Forklift tank service
Temporary heating
100lb. cylinders for cooking
Refill your portable grill/camper tanks at our store. Click here for propane refill coupon
24-hour emergency service available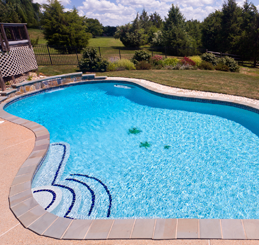 Owning a pool is no sweat, because with Wardway Pool Service you'll always enjoy clean, clear, sparkling blue water. We've been in the pool care business for over 25 years. Count on Wardway Pool Service for:
Openings
Winterization
Weekly or temporary maintenance
Acid cleaning
Filter/pump repairs
Winter Safety Covers
Pool liners
Our crews are professionally trained and all around good eggs. You can be assured that the work will be done right the first time.
Call us today at 513-574-0061 or use the form to the right to book your swimming pool service appointment.
Clean, service and repair
Our service departement cleans and repairs gas fireplaces. Vent free and direct vent gas fireplaces should be cleaned and serviced every other year, or every year if you have pets.
If you need parts and accessories for your wood burning fireplace, call us at 513-574-0061.
Does your old fireplace door need replacing? Check out Thermo-Rite glass enclosures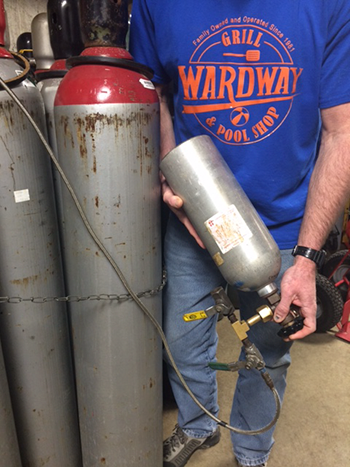 Do your need your CO2 beverage tanks and paintball tanks refilled?
We refill CO2 tanks up to 20lb. in size. All CO2 tanks can only be filled if they are within the five year test period. We can have your tank retested if necessary.
We have spare CO2 and paintball tanks available for purchase.
Helium tank rentals
We carry small, medium and large helium tanks available for rental. Small tank will fill 150 (9 in. balloons), a medium will fill 350 (9 in. balloons), and a large will fill 700 (9 in. balloons).
Propane Tank Refill
Have us refill your propane tank.
We are you're best choice because:
Almost 40 years experience - we know propane
get 20 lbs of gas (compared to 15 lbs for tank exchange) for less money
fast, friendly service
big selection of grill accessories and replacement parts
grill cleaning and repair service
we honor all propane coupons
the Wardway sign always says something interesting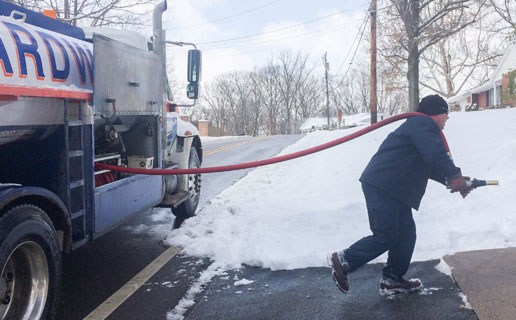 Home Heating Oil
Nothing heats warmer or more comfortable than oil.
We deliver #1 kerosene and #2 home heating oil
Automati delivery available - never run our of oil!
Monthly payment plans (pending credit approval)
Cash discounts
Reduce tank suldge and rust with Tank Shield. Ask for it on your next order.
24 hour emergency service for regular customers 
Grill Cleaning & Repair Service
General Grill Clean-Up: includes heated pressure washing, degreasing/cleaning cooking grids, rock grate/heat plates, burners, internal firebox, ignitor check, and leak test. $70.00 plus parts for ($110 for larger grills).
Pick up and delivery available
In home service calls: $85/per hour including drive time.
(pressure washing services not available for In home service)
We have a huge selection of exact fit grill replacement parts
Visit our showroom, call 513-574-0061, or sales@wardway.com for more information. We are located on Bridgetown Road @ Glenway Avenue in downtown Bridgetown.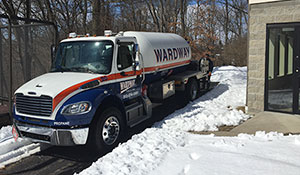 On/Off Road Diesel Fuel
Wardway supplies many excavators, contractors, landscapers and other commercial accounts with low-sulfur diesel for over the road vehicles, and non-taxable dyed diesel for off-road equipment. Fuel storage tanks and pumps are available. Premium On-Road Diesel fuel is available 24/7 from our fuel pump at our Bridgetown Rd. location.